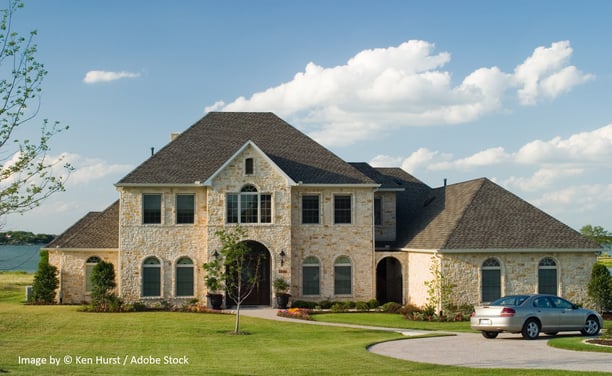 As any real estate agent knows, the first impression of a home is often the selling point. While paint and landscaping are often the first things people think of when trying to enhance curb appeal, the roof of a home is actually its most prominent feature. Dimensional shingles add value to a home and can enhance both the resale value and how quickly it can sell.
What are Dimensional Shingles?
Regular 3-tab shingles are flat and have a uniform appearance -- and only have a 60 mph wind warranty. Dimensional shingles, on the other hand, have multiple layers of material attached to a heavier base mat than 3-tab shingles. Those added layers give the shingles a 3-D look on a roof. Available since the 1970s on high-end homes, these shingles are now more affordable and more popular because they allow homes to look more modern and upscale.
Durability
One of the most important ways that dimensional shingles add value to a home is due to their durability.
This roofing material:
Is thicker and more resistant to damage and hail.
Has a higher wind rating (110mph).
Is less likely to warp.
Has a manufactuer's warranty of 30 up to limited Lifetime
Visual Appeal
Dimensional shingles are also called architectural shingles because they help enhance the design features of a home. Developed to allow homes to have the fire protection and durability advantages of asphalt shingles while retaining the aesthetic appeal of wood, slate, or tile, these shingles are practical, as well as beautiful.
Moreover, because they come in many styles and colors, this type of roofing can enhance match almost any style of home -- including Mediterranean, Ranch and Victorian. In addition, the varied thickness of the panels can help hide any imperfections in a roof.
Comparison Appeal
Do most of the homes in your neighborhood have 3-tab shingles? Adding dimensional roofing to your home will make it stand out significantly by making it appear to be more attractive and upscale. Conversely, if most of the roofs in a neighborhood are dimensional or metal, a 3-tab shingles can make a home seem less appealing, and ultimately, less valuable.
Variety of Colors and Styles
An additional appeal is the greater number of choices it offers the homeowner in colors and styles that can match a home's exterior. The professionals at Longhorn Roofing are experts at helping a homeowner decide which type of roofing material would best match and enhance their home style.
A Good Value
Considering a new roof? These shingles are an excellent choice to add value and style to your home, While dimensional roofing shingles are more expensive than 3-tab shingles, the longer lifespan of the roof, as well as the enhanced visual appeal of the home and added durability in high winds can make this type of roofing a cost-effective choice. Longhorn roofing offers only high-quality shingles by top manufacturers to make sure our customers get the best value.