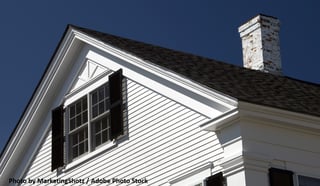 The most cost-efficient roof will be the one that lasts the longest and protects your home from the rough Central Texas storms. The best roofing jobs are done as complete systems with all of the highest quality parts.
Starter shingles are important for:
Proper Roof Installation
What is a starter shingle? A starter shingle is a strip of asphalt shingle designed specifically to be the base of an entire roofing project. Starter shingles are laid down on the roof first, placed at the edge of the eaves and gutters of your home. They are specifically designed to protect the edge of the roof and to provide a guide for the correct placement of all the other shingles.
Keeping Roofs Watertight
The rest of the roofing shingles will be laid down to channel water directly towards the edge covered by the starter, That means the starter shingle is key to make sure the water doesn't reach the roof deck. As water runs off the roof, the starter shingle keeps the roof deck water-tight and protected. Even if leaves build up in your gutters and pool water on the roof, the starter shingle will protect the decking from getting water-soaked.
Ensuring Full Wind Resistance
Your roof wind resistance is based on the quality of the shingles and the proper installation of each section of the roof. If you are given a quote on a new roof that seems too good to be true, be careful. Cutting corners by using cut-up strips instead of starter shingles can damage the ability of your roof to resist strong winds because those cut shingles might not have the adhesive positioned correctly. That means that when the full force of an Austin wind hits your roof, those shingles may loosen and pull off.
Other Advantages:
Although having a high-quality roof is the most important reason to make sure your roofing contractor uses starter shingles, you will also enjoy these advantages:
A Cleaner Look: Cut-up shingles can give an uneven appearance to the roofline whereas starters give a clean, sharp, uniform edge that gives your roof a more attractive and finished look.
Quicker Installation: Using starters makes the installation faster and easier so your new roof will be ready for the next storm.
Proper Installation is Imperative
One of the most common reasons for roofing failures is the improper installation of starter shingles. That is why Longhorn Roofing only uses high-quality shingles from GAF or Owens Corning and makes sure that all of our roofers are properly trained in installing them to ensure your roof will be water-tight and able to resist everything that our weather throws at it.
Call us for a Complimentary Estimate
If you're in the market for a new roof, Longhorn Roofing offers complimentary estimates. Call us today at (512) 982-6070 or by clicking on the button below to fill out a form.