Want to do more for the environment but keep the classic look of shingles?
Metal roofing has changed the game in Round Rock. More homeowners and business owners alike are choosing it to meet their needs for a strong, secure roof that's also energy efficient.
When it comes to a "green" roof, metal is the best around. It reflects a tremendous amount of heat away from the roof, ensuring you stay cool without running your AC nearly as much.
But let's face it – some people love shingles. And in neighborhoods dominated by older homes, going with a shingle roof can be a good bet if you're hoping to sell in the near future.
Luckily, there's a solution for you: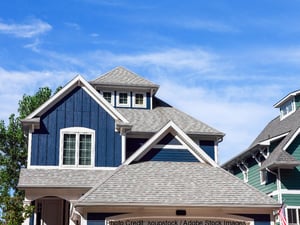 Cool roof shingles maintain the look you want and still bring an environmentally-friendly twist to your roof. With their reflective granules, they provide substantial reflectivity. They tend to come in lighter colors, including white, to further enhance the effect.
This is an even more powerful solution than specialized cooling membranes or coatings.
Cool Roof Shingles Offer Benefits Inside and Out
The big benefit of cool roof technology is the monthly savings you'll enjoy. You'll stay cooler in the summer and warmer in the winter without spending as much on temperature control.
However, the benefits are even better than usually reported.
Here are some advantages you might not have heard about:
Reduction in Heat Islands
In the summer, Round Rock temperatures can soar close to 100°. Something called "the heat island effect" contributes to how hot it feels. Neighborhoods turn into heat islands, where surface temperatures are swelteringly hot, thanks to the use of heat-absorbing roofing, paving, and construction materials. Cool roofs help offset this effect.
Lower "Energy Peaks"
When energy infrastructure is strained to its peak, people end up paying more money to keep the lights on. Cool roofing contributes to lower peak energy demand, which allows customers to get reliable electric service at lower rates. Short of installing solar panels, cool roofing could be your best bet for helping keep electricity in Round Rock affordable.
Cleaner Air
Emissions from power generation are a key factor in air pollution. They can include carbon dioxide, sulfur dioxide, mercury, and much more. The Texas wind can send these irritants many miles through the open air, far from any power plants. With a cool roof, you'll be doing your part to safeguard clean air for generations to come.
Have the Best of Both Worlds: An Eco-Friendly Roof in the Style You Want
If you're in love with the aesthetic of a shingle roof, you don't have to sacrifice it to pitch in for the environment. Cool roof shingles are the solution you've been looking for.
With professional installation and maintenance, your cool roof can last for years. High-quality reflective shingles add to the comfort and affordability of your home while helping keep Round Rock beautiful. You really can have it all!
To find out more or get started, just contact Longhorn Roofing today.