Metal roofing is growing more popular by the day, but many homeowners still prefer the classic look of shingles.
Thanks to the wide variety of colors in each shingle's granular structure, there's something beautiful about a new shingle roof that you just can't capture otherwise.
As nice as they look, though, it's also important to make sure they'll stand up to the job.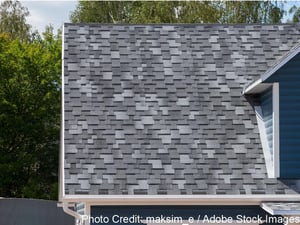 If you want to see a truly great shingle roof, Austin, you have to start with the materials.
What Goes Into a Shingle Roof Austin Customers Love?
The answer to the perfect shingle roof Austin homeowners can't do without is two-fold. It starts with the selection of the highest quality materials, then goes on to ensuring a perfect installation.
Although we offer two different options for an Austin shingle roof, dimensional shingles stand out as the top choice for those who want the best quality. On the other hand, 3-tab shingles are less inexpensive.
Of course, if you choose 3-tab shingles, you're still getting a product that'll stand tough against sun, storms and ice for many years. With dimensional shingles, though, you're going up to another level. They're durable, attractive, and will add even more value to your home.
Here's how:
Dimensional Shingles Use Even Stronger Materials
Dimensional shingles are thicker than 3-tab shingles. This does add a little bit to the cost. However, it means, they will stand up to greater punishment in Austin-area weather. Plus, they'll need even less maintenance over time while lasting longer.
Dimensional Shingles Maximize Aesthetic Appeal
The design of 3-tab shingles focuses on convenience, but the sheer artistry of a shingle roof takes a back seat. Thanks to regularly-spaced tabs, a pattern to the shingle colors is usually visible. Dimensional shingles use distinct layers of materials, giving them volume and variance.
Dimensional Shingles Can Highlight Your Architecture
If you love the silhouette of your home and want to emphasize it further, dimensional shingles are the way to go. They are truly an architectural feature, providing a wide range of decorative and ornate shapes. In addition to asphalt, they can mimic slate and tile (among other materials).
If you want your home to have the shingle roof Austin locals love the most, you just can't go wrong with dimensional shingles. As an experienced contractor with top credentials from Owens Corning, GAF, and more, Longhorn Roofing is your trusted local source.
To find out more or get started, contact us today.