Time to call a roofer in Georgetown, Texas?
In 2019, Georgetown was recognized as the 7th fastest growing city in the United States. No surprise, then, that more homeowners are in search of a roofer Georgetown TX really trusts.
If You Need a Roofer in Georgetown TX, Look Out For These Signs
Regular maintenance is essential to keeping your roof in good condition. That's vital around the Georgetown area, where high heat and harsh weather often take years off a roof's life.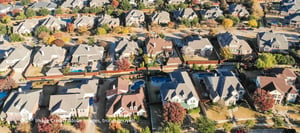 Let's review some telltale signs that you're in need of a roofer:
1. Roof Leaks
Naturally, you should call a Georgetown roofer as soon as you notice any roof leak. Even a small leak has the potential to grow – it could get bigger, literally overnight. On top of that, the extent of water damage caused by a leak isn't always obvious -- you can't base it only on what you're able to see. Immediate roof repair is essential.
2. Damaged Flashing or Shingles
Cracked shingles lose some of their ability to protect your roof from wind and rain, and curled shingles expose the vulnerable underlayment beneath. Also, remember to look for bent or missing metallic flashing around a chimney, vent pipes, and other protrusions. Without sound flashing, these areas can leak pretty easily in bad weather.
3. Annual Roof Inspection Time
A Georgetown roof inspection should be performed annually for shingle roofs. The best time to get it done is before summer rolls in, defending your home against storms. If you have residential metal roofing in Georgetown, you can schedule inspections every other year.
4. Troubles Heating or Cooling
No matter the time of year, you might notice your HVAC system running more than it should. If nothing wrong is found with the system itself, your attic and roof may need updating to improve the circulation of warm air throughout your home. A stifling hot or damp attic is a telltale sign of circulation issues.
Choosing a Roofer Georgetown TX Can Rely On
When selecting a roofer, look for these traits:
-Plenty of experience: It takes many years to master every aspect of roofing

-Terrific customer reviews on platforms like Yelp and an "A+" BBB rating

-A written estimate covering all parts of your Georgetown roofing project

-A locally owned business that cares about local reputation and giving you quality service
Choose the roofer Georgetown TX raves about: Contact Longhorn Roofing.